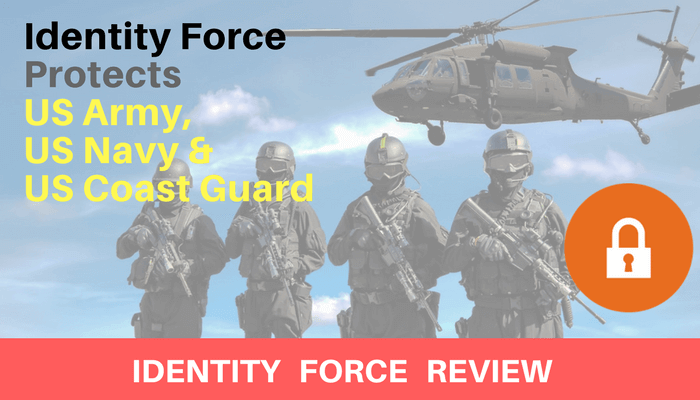 ---
Equifax says, "143 million Americans —

almost half the country

is the victim of Identity theft"
Cyber criminals have accessed sensitive information — including names, social security numbers, birth dates, addresses, and the numbers of some driver's licenses also credit card numbers for about 209,000+ US citizens exposed.
Don't Risk your and your families life. Data breached are a reality – protect yourself and your loved ones. Opt IMMEDIATELY for professional Identity Theft prevention service. eg. IdentityForce (with Insurance: Up to $1 million)
---
One of the scariest things that you can be informed is that your account has been used for some fraudulent activity. Yet thousands of people fall victim to different cases of identity theft every year and end up losing millions of dollars.
Yet even after losing your money, recovering your identity once it has been stolen is not an easy task. That is why it is imperative that you have identity theft protection, especially in this era of over-dependence on technology.
What is Identity Theft?
Identity theft is a crime in which an imposter obtains key pieces of personal information, such as Social Security or driver's license numbers, Tax IDs in order to represent someone else.
The information can be used to obtain credit, merchandise, and services in the name of the victim, or to provide the thief with false credentials.
In addition to running up debt, an imposter might provide false identification to police, creating a criminal record or leaving outstanding arrest warrants for the person whose identity has been stolen.
Identity theft is not new, but the popularity of the Internet, online shopping, credit and bank cards, and use of social media have made it one of the fastest-growing crimes in the U.S., with more than 17.6 million victims last year alone.
That's 1 out of every 4 adults, averaging losses of $3,500 per person, with each spending over 330 hours restoring their identity.
IdentityForce (sometimes referred to as "Identity Force" ) is the leading company when it comes to identity protection services. The company offers affordable solutions for individuals as well as organizations that are looking to provide privacy and identity theft protection for their clients, employees, and members.
Identity Force is definitely the market leader when it comes to offering the most comprehensive identity protection. This includes family coverage, 24-hour phone support, and a $1 million insurance cover.
Identity Force also has solutions for businesses in case of a security breach. If your Anthem account is ever hacked, IdentityForce is the only company in the market to provide Medical Identity Resolution.
This wide range of services on top of excellent live customer service makes IdentityForce the market leaders in Identity Theft Protection.
Why do you need identity theft protection?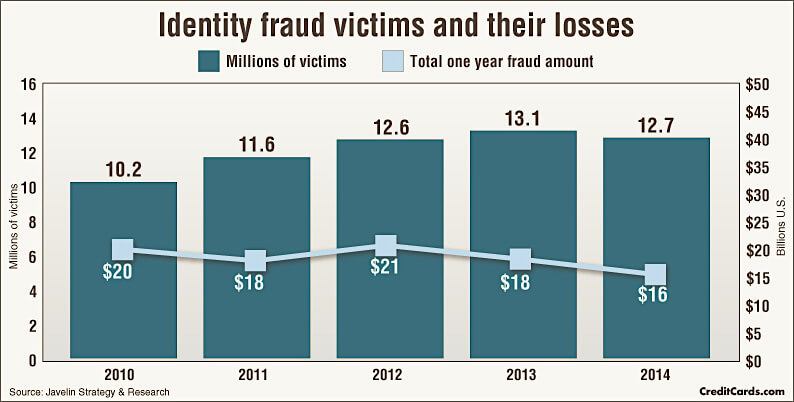 Image source
The world we live in today, you are the prey and anything you own can be stolen by anyone. One of the easiest things that someone can rob you of is your identity. Let us look at some of the reasons why identity protection is vital.
Identity theft can lead to financial ruin within minutes leading to the devastation of your financial life forever.
Your risk of identity theft grows as technology and internet activity grows. For peace of mind, let the experts protect you.
Your identity can be accessed by any computer from anywhere in the world.
Your risk increases every time you use your credit card, give out your social security number or shop online.
Identity theft is the leading consumer complaint and the fastest growing crime in America.
Features of Identity Force 
Around the clock identity theft monitoring. Your accounts are protected 24/7 and any attempt at theft is thwarted immediately.
Monitoring and alerting you anytime changes or activities take place and your Social Security Number is used.
Monitoring the criminal websites for illegal exchange of personal information.
Monitoring changes of address submitted through the postal services.
Monitoring and informing you of any loans taken in your name.
Providing a remedy if your identity is stolen.
Reimbursement of up to $1 million out-of-pocket expenses.
The great thing about IdentityForce is that you can be given an opportunity to try out the services for 30 days free and without any obligation. So if you are hesitant to commit yourself or you have a few options to choose from, you can put the service to the test and see how it works for you.
All you need to do is go to the website's homepage and click the "Free Trial " button. Then provide the information required and you will be walked through the security and credit monitoring process. If you like the services, don't cancel. The free trial will automatically convert to a paying membership.
IdentityForce Plans
IdentityForce offers 2-plan options which can be perceived to be a downside compared to most of the competitors who offer 3-4 plan options. However, the 2-plan options are not only comprehensive but affordable as well.
The only difference between the plans is that one has credit monitoring while the other doesn't but all the other features are similar.
The following are some of the services that are IdentityForce provides
Complete monitoring for you and your family
In today's extremely connected world, our personal information can be potentially everywhere. IdentityForce has a big team of experts committed to monitoring your information around the clock with no exception. They have a number of ways to do this to ensure that you and your family are protected all the time.
Monitors changes of address
Identity thieves can change your address divert all of your email and personal information to your "new" mailbox. IdentityForce will detect any change of address that has not been initiated by you.
Monitors court records
Another area to look at for information is the court records. This is the reason why IdentityForce diligently monitors public, criminal and court records to be sure that your information has not been used fraudulently.
Monitors credit reports
As we all know, negative accounts can prevent you from making purchases or getting loans. Through thorough examinations of your credit reports, you will be alerted on where the problem lies. IdentityForce can also stop any person from trying to get credit using your name.
Identity monitoring
Due to our online presence, a lot of our personal information can leave a trail. IdentityForce carefully goes through thousands of blogs and websites as well as black-market chat rooms to make sure that your information is not being sold illegally.
Medical Identity Theft Protection
A vicious new kind of identity theft is on the rise. In the past few years, medical identity theft has risen over 22%, affecting over a million people every week.
Criminals who steal your identity for medical purposes do so to receive treatment, medications, and surgeries under your name. The damage can be a nightmare to repair.
Identity Force provides extensive monitoring services for your medical records and will alert you of any activity that seems suspicious.
Payday loan monitoring
It is possible for a criminal to access a loan just by using your Social Security number. This can do a lot of damage to your credit especially with the high-interest rates of today. IdentityForce has the mechanisms in place to stop such activity before it occurs.
Sex offender monitoring
For any parent, the thought that a sex offender or pedophile may be lurking somewhere in the neighborhood can be a chilling one. With IdentityForce, you will be notified in case a sex offender is in your neighborhood.
Customizable alerts
IdentityForce alerts you by text message at the first sign of any attempted theft or fraud. This allows threats to be stopped before they become a situation where assets or sensitive information recovery is needed.
Child watch protection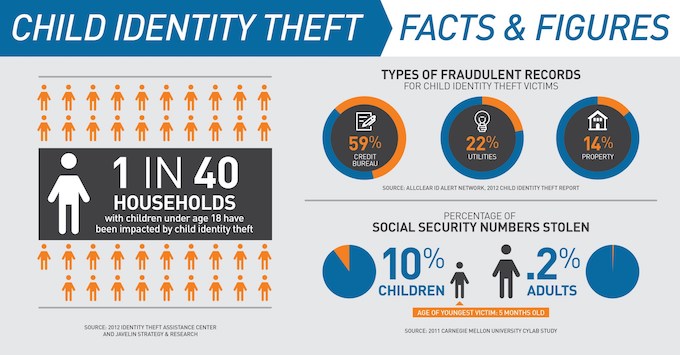 Children are also very vulnerable to identity theft. This is mainly because it may be years before the child qualifies for a loan and the fraudulent activity is noticed. With the new ChildWatch program, you can add your children for only $2.75 per child per month.
Consumer Reviews
IdentityForce is over 3 decades in the business and its have excellent customer experience record, Identity Force has received an A+ rating from BBB.
24/7 customer support and expert assistance during a crisis make Identity Force a solid example of business and customer relationship.
Support

:

Identity Force has excellent customer support, including a helpful live chat service. Representatives are available 24/7 to answer your questions and offer help if you get an alert or suspect your identity is in danger.

In addition, the website has FAQs covering the firm's products as well as a library of informational articles on how to protect your identity.

The site also has a selection of free identity protection resources, such as an identity theft risk quiz and an identity restoration toolkit.
Summary:
General Information
BBB Rating: A+
Identity Theft Insurance: Up to $1 million
Monthly Price:  $14.95 – $19.95
Types of Monitoring: Personal, Family, Business
Comprehensive Identity Protection: Credit Monitoring, Internet Scanning, Legal Protection, and Analytical System
Complete Identity Recovery Services: Financial, Medical, Tax, and Criminal
Valuable Insurance Quality: $1 Million amount through AIG (if case is reported within 90 days)
Credit Monitoring: Available through Equifax, Experian, and TransUnion
Cons:
• IdentityForce has limited options
Pricing
UltraSecure includes all of the above benefits plus the following:
Internet Monitoring:  Constant monitoring of your personal data to detect any illegal selling or trading that goes on in the underground black market, blogs, newsgroups or chat rooms
Public Records Monitoring:  Comprehensive monitoring through court, criminal and sex offender records
Instant Alerts:  IdentityForce will send you instant alerts when your personal information has been compromised or misused
Restoration Services:  You can call IdentityForce's Certified Protection Experts 24/7 to help you complete paperwork, make calls and handle all the complicated processes of identity theft restoration
$1 Million Insurance Policy: This insurance guarantees that you recover certain out-of-pocket lost wages and expenses if you become a victim of identity theft
UltraSecure + Credit includes all of the above benefits plus the following:
Daily Three-Bureau Credit Monitoring:  You will receive alerts if someone attempts to damage your finances and credit by applying for a new application or loan in your name.
Three-Bureau Credit Report:  With a three-bureau credit report, you can get insight on the key changes that are happening to your file
Three-Bureau Credit Scores:  IdentityForce allows you to access your online credit score from each of the three bureaus
Monthly Score Tracker:  This tracker tool shows you how and why your credit score changed over time
Discount Offer: 
Click on link to use  Identity Force coupon code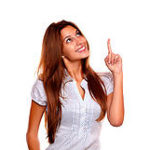 Contact Information
Phone: 877-694-3367
Address: 40 Speen Street, Suite 403, Farmington, MA 01701
Signup: Visit the link to Help Protect Yourself From ID Theft. Enroll Now: Most trusted Identity Theft Protection.
Conclusion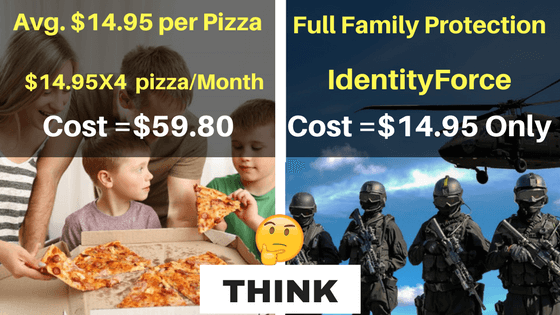 Investment of $14.95 or $19.95 /month is worth to protect you and your loved ones from HUGE financial losses in future. It's the cost of a couple of pizzas/month. Think over this! 🙂
With the increased number of cases of identity theft, it is clear everyone is vulnerable to the fraudsters. Without identity protection services you can lose all your money and see your whole life take a turn for the worse in a matter of hours.
Choose IdentityForce to protect you and your loved ones and have peace of mind that your identity and your money is safe.
Identity Force Reviews: