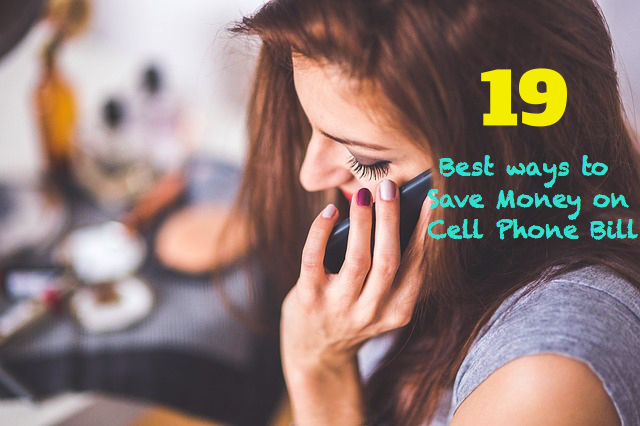 There is no secret that currently almost every adult in the world owns a cell phone; nowadays, the use of cell phones has eased communication making the landline usage is declining consistently. Cell phone bills are confusing at times and at certain moments they get higher than expected.
Cutting the cell phone bill is one way of reducing costs and saving money. If you have a family of five, cell phone costs can soar up to a high of $200 per month i.e. including texting packages and data. That's quite some money. The cost is already out of hand.
I have been on research in the last several weeks to look for some of the tricks and tips that can be used to lower the cell phone bills. The following are the tips that can assist you to reduce your cell phone bills
1. Mind your minutes
Paying for a lot of minutes increases the cell phone bill. It's important to check your minutes for several months so that you can accordingly adjust your bill
2. Texting
It's important to know that your texting habits go a long way in determining the cell phone bill. Unlimited texts come at cheaper rates, but again, if you are not sending a lot of texts, it's unworthy to purchase unlimited texts.
3. Drop the insurance 
Paying insurance for your phone isn't necessary unless you purchased a brand new one that cost you numerous dollars. For instance if you pay $2-5 per month for over a year, you will most likely pay enough money that may be equivalent to the amount you used in purchasing that phone.
4. Use prepaid cell services
The use of prepaid cell phones is gaining popularity since their services are cheaper. Here you pay for a specific amount of minutes and you are not required to sign any contract. A wide majority of phone carriers offer pre-paid cell phone options
5. Employee discounts
Several companies are offering discounts on wireless services. This saves a lot of money. You can always check the types of discounts that your employer offers
6. Play the switching game
If your phone breaks before the expiry of your contract, you are most likely going to pay the full price when replacing that phone. But again, if you have several phones that have the same carrier, you may have several options. If you have cell phones that have been under contract for long enough, you may qualify to get a cell phone at a discounted price. It is true that you will be required to do an extension on the contact but it will be worthy. You can then use the simcard that belonged to the broken phone
7. Reduce your data plans
The days of using unlimited data now belong to history. These days you only purchase data that will cover your needs, not excess . its important to purchase just enough otherwise you will pay for data plan that you actually don't need. This will drastically cut the phone costs
8. Re- negotiate
When existing contracts expire, it's always important to renegotiate for better deals. The price of a cell phone contract reduces with time when you use the same service. Always take advantage of the most recent deals when your contract expires
9. Do away with ringtone charges 
Ringtones aren't that important. You can always save that money and use it for other important things
10. Shop online
Almost each and every phone call carrier offer discounts any time you make online shopping
11. Never cancel a cell phone contract
Any time you terminate cell phone contracts, you have to contend with several outrageous fees, but again, there is a way out, there are several websites that can be of great assistance anytime you need to cancel a contract. These sites basically link people who intend to cancel contracts with the ones looking for cell phone contracts
12. Avoid unlimited plans
It is true that unlimited plans can relieve you the burden of having to worry about minutes. Many people never take advantage of these programs. Always check your cell phone to ascertain the cell phone usage. You can look for a plan that is less expensive
13. Combine plans 
The charges reduce anytime you add a new line to a similar plan. You can save a bundle by combining two cell phone plans
14. Avoid calling 411
Directory assistance is always expensive anytime you ask for it using a cell phone, it's therefore unnecessary. You can instead use 800-FREE-411. This can give you a listing for free
15. Use Firefox plug-ins when tracking time 
All major phone carriers will always have Firefox plug-in. This is to assist its clients to track their minutes. It's a simple way to assist their clients from going over their limits
16. Find the phone that fits
It's true that every one want to be up to date. Everyone would want to have the latest iPhone or android, but come to think of it, what's the major function of a phone? To make call and receive calls. Rather than waste money buying that expensive android, you can purchase a simple and cheaper phone. This will assist you to save that extra amount and use it for other pressing needs
17. Cut back on paid applications
The ability of downloading anything that you wish brings a great feeling. Most apps cost a few dollars. It's difficult to notice that this is actually an expensive affair but if you do the math and get the monthly cost you will be shocked. It's important to avoid all those unnecessary apps
18. Utilize peak, night and weekend minutes
If you are exhausting your minutes, take advantage of peak hours, nights and weekends when the rates are favorable. This will save you a lot of cash in the long run
19. Roaming charges
Make are you are aware of roaming charges. They can be very costly. Be familiar with the charges in your area. You can easily receive roaming charges if your cell phone falls in vicinity where your provider does not have any towers
NB- Most cell phones are compatible with data transfers. It's important to determine the type of data that you need and plan accordingly. This also applies to text plans. You must know your usage.