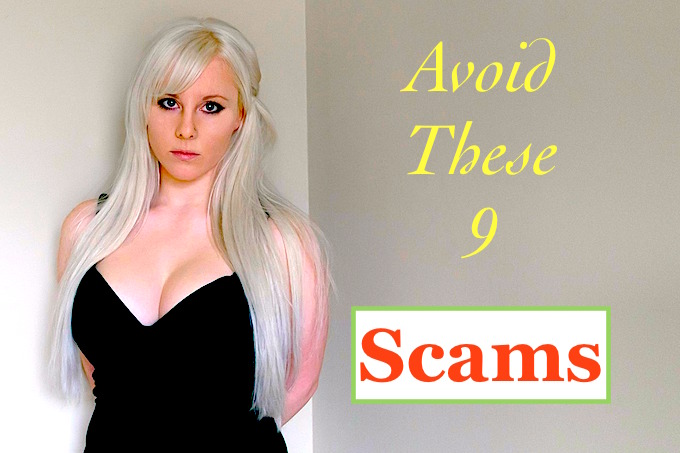 Nowadays making money online securely and quickly has become a reality. With so many options provided by the World Wide Web, most people are considering it as their main livelihood.
But, the fact cannot be denied that the web is filled with scams/scammers that are taking advantages of gullible people to make a profit for themselves illegally. As the demand and opportunity to make money online is growing, the numbers of scammers are also growing at an alarming rate.
If you were looking for a way to earn money online then, what would you do now? Forget about the idea? Do not do that, as here the 9 scams that you will come across while making money online have been mentioned so that you can effectively stay clear of them:
Scam 1: Surfing the web
In your attempt to make money online, you will see many online businesses/companies that will promise to pay a good amount of money for just visiting certain websites throughout a fixed time period.
They will tell you that you just have to click on banners and links, and you will get the payment when the task is over. But, in reality, you have to sign up for certain promotions and/or services in order to be eligible to receive the payment.
You have to sign up for your credit card and you will see that you are getting charged without your consent. By the time, you will figure out everything, half the money in your bank account will be gone.
Scam 2: Online surveys
Making money online via taking online surveys are currently the new buzzword but these are a type of scam. The truth is that the websites/companies will lie about the hourly amount that you will earn by taking surveys.
So, you won't receive that much of surveys (3-4surveys/day) to begin with but, you will receive hundreds and hundreds of emails containing spam promotions.
Scam 3: Companies offering pyramid scheme
The online world is filled with many pyramid schemes that operate illegally. These schemes will basically try to camouflage their actual identity behind some kind of product or company's name.
They will show you false charts and products which will suggest that for a certain number of members in your tier downlines will pay a certain amount which will make you a profit in return.
These membership fee schemes are divided into many levels or phases and this is how they get you to believe them.
Scam 4: Turnkey websites
Well, the latest scam in the world of making money online happens to be turnkey websites. This is also a type of MLM (multi-level marketing) like the pyramid scheme where you need to first make a purchase and then recruit others.
You job will be making sure that these recruits of yours purchase the same product you purchased earlier. The turnkey website will scam you by promising that you will get a commission if your recruited candidates make the purchase.
Scam 5: Email chain letter
The concept of this method can be divided into three steps. Firstly, you will be sending a certain amount of money to a person who is there at the top of the list on the email, and then add you name to the bottom of the list.
And finally, you send this newly edited email to a certain number of people you know. According to this email chain letter, all who are participating will receive money from the person who is next on the list.
This is a scam and you will never receive anything from this as the scammer of this email chain letter keeps his/her name (and/or his/her friend's name) at the top of the list to scam innocent people.
Scam 6: Reading email
People who are looking for a quick way of making money online will come across the offer which will promise to pay up if you read a certain number of emails per day.
The job sounds easy and believe it or not, you will find many companies that will pay you. But there is a catch! You will end up working for 5 to 6 hours straight and at the end of the day, you will receive a very negligible amount.
These companies lure newbies and trick them like this, so beware!
Scam 7: Google Adsense
The only way you can earn via Google's ad program if you are producing unique content in order to promote your blog or website ethically. Many scammers are using words like Google Adsense (Adsense ready and Web site kits) programs to cheat people interested in making money online.
They are promising that with Google Adsense you can earn online by owing a template website that will be filled with many pages of content. If you are choosing this then, do make peace with the fact that your website/blog will get low to no ranking in Google or any other search engine.
Hence, you will not get any kind of benefit from it that you were looking for.Scam 8: Binary trading options
Scam 8: Binary trading options
You will see that there are many websites which are providing you the option of binary trading. If you do your research you will even find concrete proof that it works and you will be able to earn through this method.
But, you have to understand that you need to understand and learn the skills before you start, as it is associated with high risks. So, if you are not familiar with binary trading options then chances are you will end up losing a ton of money. Besides, the promise that they provide "free" trading sites is usually a lie.
The scammers actually will redirect you to a different binary trading options website where you have to make a deposit. And yes, the required deposit amounts are usually a hefty amount.
Scam 9: Typing at home
You will also come across many ads that will promise you a lot of money in return for typing content for companies that will be outsourcing their work to you. This may sound like easy money but there is a catch! What the scammers don't mention is that you will have to pay quite a big amount in order to receive the company listings.
So, after paying a ton you will receive the name and contact information of thousands of companies that are looking for a person to type on their behalf but, there is absolutely no guarantee that all of them will hire you.
There you have it, the 9 scams that you need to avoid while making money online. So, all you have to do is avoid them and similar scams and you will be able to make a ton of money online without any worries.