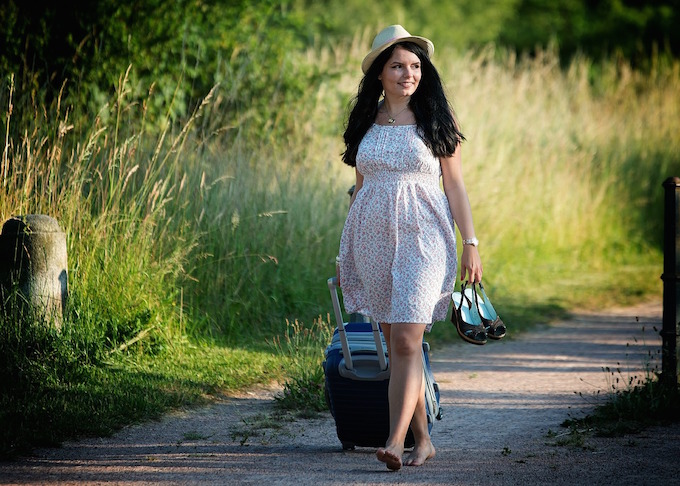 Until recently, the urge to go off to foreign lands, experience new cultures and meet new people was considered a staple of hippies or those undergoing a mid-life crisis but the wanderlust era now seems to be here for the long haul and like Tolkien so elegantly put it, "Not all those who wander are lost."
However, even those who set out with a purpose or just for the fun of it still have to find a way to put food in their tummies or fare for the next part of the journey.
So here are 21 fun ways to make money while traveling the world to make sure you don't give up on the journey before you have truly enjoyed the experience.
These tips are divided into three batches as they are varied and some will be better suited for a certain of personality but not another. The first batch is for outgoing people who enjoy socializing, meeting new people and find a new learning experience fun and invigorating.
1. Teach English
This is one of the tried and tested ways out there for travelers to earn some extra cash and a fun noble way to interact with the locals and other foreigners.
Countries in Asia, Latin America and the Middle East are some of the best bets for this and generally just require a good grasp of the language and a TEFL certificate although this is not always a must have.
However, English is not the only language you can teach and you can make use of your multi-lingual abilities and get paid handsomely for it.
2. Cruise Ship Employment
Cruise ship employment has become a great hit with the traveling community and especially for extroverts with a yearning for the sea.
The best thing about this is that the choices are endless from performing, cleaning to giving massages or even painting portraits with the pay ranging from about $1000 to as much as $10,000 a month for 4-10 hours of work.
Cruise lines in the Mediterranean and Caribbean are quite popular and the benefits make earning so much fun. If cruise ships are too demanding for you, yachting is another great way to earn your sea legs and your supper.
3. Camera, Roll, Action: Extras!
This is probably not what happens on a set but casting calls for stand-ins and extras provide a fun interesting way to make money while on the road.
Several websites like StarNow advertise for the opportunities for extras in videos, movies or shows that are being shot in different locations and you could just find yourself brushing shoulders with your favorite actor as well as making some extra cash and meeting a host of new people with similar dreams of being a star.
4. Sell Timeshares
For those with the power of garb and can persuade just about anyone to buy just about anything, putting these skills to use can help you net in a large income and get to experience beautiful sites as major resorts are located in some of the most breathtaking areas in the world.
5. Bars, Restaurants and Hostels
This is a fun way to stay in a place, enjoy the nightlife and culture and have a place to sleep, eat or drink for free or at seriously discounted prices.
In peak seasons, these jobs are pretty easy to get while having a work permit can give you an added advantage during low seasons.
6. Become an Instructor
Pretty much any marketable skill can help you earn money while traveling from cooking, surfing to skiing, swimming and even crafting. Practicing your passion is definitely going to be a fun way to earn and help get you through any homesickness or financial worries.
7. Festivals
This is the ultimate fun income earning method out there which calls for social skills and creativity whether you will be working at one of the established stands or setting up your own. It is basically selling yourself and you have to make people want to buy what you have.
The next batch of tips is for people who enjoy solitude in their travel.
8. Travel Blogs
Blogging is great as it allows a large number of income sources such as brand partnerships and advertising and lets you write about your interests on the road.
9. Freelancing
Freelance writing lets you make money anywhere in the world and you get to determine the hours, articles and topics that interest you so you can have fun even as you beat deadlines and enjoy the sunsets in some exotic location.
10. Writing a Travel Guidebook
This might seem a tad time-consuming but with the rise of ebooks and self-publishing, writing a guidebook is an excellent way to pad your pockets on the go, and the more you travel the more material you have for future installments.
11. Day Trading
This will need you to actually take time out to learn the ropes but is an extremely profitable endeavor once you get into it and can be done virtually anywhere.
12. Housesitting
The gift of traveling is one that keeps in giving. Housesitting allows you to have a roof over your head and some extra change when you travel to a new city and takes the worry out of the travel for awhile, so thank the owners who are undoubtedly off to an adventure of their own.
13. Busking
Also known as street performing, busking allows you to channel your creativity and get paid for it along with perfecting your craft. Even though there is some interaction, you can keep to character which is a quirky yet effective way of remaining in your bubble.
14. Online Poker
This is not for the faint-hearted as it can just as easily go south as it can pay off in a major way. Online poker is fun and thrilling if you know what you're doing and have lady luck on your side and it can reward handsomely for the days when the stars shine on you.
15. Writing Reviews
Frequent traveling will, of course, put you in a lot of hotels and you can make this work for you by writing reviews for sites or the hotels themselves and getting paid for it.
For those looking to make their mark and help make the world better can look into the following ways.
16. Peace corps
The Peace Corps is a great way to visit remote lands, lend a helping hand and make a huge difference while getting your expenses catered to. It is however not a step to take lightly as it takes a lot of commitment.
17. Au Pair
Travelers who love kids can apply to be nannies in the places they visit and get to take care of children for a roof, meal and a stipend while helping nurture the little ones.
18. Recycling
It is important to minimize the carbon footprint you leave on the world and some countries especially in Europe will pay you to clean up after others. You can collect plastic or glass bottles and take them to recycling factories or drop off points and get paid to actually do good.
19. Diaspora Youth Programs
Programs such as Birthright Israel, Heritage Greece, Love Boat Study Program and Birthright Armenia help young travelers explore the world and volunteer for various causes for an all expense paid trip.
Although you may not necessary earn, you also don't have expenses and you get valuable experience that will come in handy later in life
20. Work Exchange
Sites such as WWOOF help travelers get housing and food in exchange for working on farms for a given time after which they can explore their surroundings. This is a nice way to learn a culture and give back as well as connect with nature.
21. Government Jobs
There are various government postings that allow you to travel while doing good, serving your country or mankind including joining the military. Not only do you travel, do some good and make your mark, you also have a guaranteed salary.
Michael Palin wrote, "once the travel bug bites there is no known antidote, and I know that I shall be happily infected until the end of my life." Travelling is one of the life's pleasures that don't have to be curtailed just because you are not super rich.