Life insurance was never the favorite topic of Indian people. It was not available / affordable for masses. The new government trying hard to have insurance coverage for all the people of India by introducing various schemes. In last article we have discussed Pradhan Mantri Suraksha Bima Yojana (PMSBY) in details, now we are going to introduce about  insurance scheme. Its called Pradhan Mantri Jeevan Jyoti Bima Yojna (PMJJBY).
        This Pradhan Mantri Jeevan Jyoti Bima Yojna. (PMJJBY) scheme gives, holder an insurance cover for a year. It can be renewed on yearly basis. This insurance scheme is offering the life insurance cover for death due to ANY reason (natural or accidental). Its offered / administered through LIC and other Life insurance companies with tie ups with banks.
Eligibility
Age group of 18-50 years. Person should have completed 18 years of age and should not be elder than 50 years of age.
Should have a saving bank account in any recognized bank.
Should give consent letter of auto-debit facility. Its for the ease of account holder. He/she need not to transfer funds every year manually in this insurance plan.
Required to give a self certification of good health and that he / she does not suffer from any of the critical illnesses as mentioned in the applicable Consent cum Declaration form as on date of enrollment or earlier.
Premium
        Although this PMJJBY scheme gives benefits under any type of death incident, its premium is very low as compared to previous life insurance policies.its less than Rs 1 per day or  i.e. Rs 330/- per annum. No matter what your age is, the premium will be the same for all, Rs 330/- per year.
        This annual premium of Rs. 330 has been fixed for the first three years from June 1, 2015 to May 31, 2018, after which it will again be reviewed based on the insurers' annual claims experience.
        The premium will be deducted from the account holder's savings bank account through 'auto debit' facility in one installment on or before 31st  may of each annual coverage period under the scheme. However, in cases where auto debit takes place after 1st June, the cover shall commence from the first day of the month following the auto debit.
Premium Breakup
Rs 289 would be charged as annual insurance premium by LIC per member
Rs 30 would be charged for reimbursement of expenses to Agents/Corporate/Micro/BC
Rs 11 would go against Administrative Reimbursement Expenses to the banks participating in the scheme.
Payment Mode
There is only one mode of payment available, The premium is directly Auto debited by the bank from policy holder's account.
Risk coverage/ Benefits of PM Jeevan Jyoti Bima Yojana ( PMJJBY )
Rs 2 Lakh is payable on policy holder's death due to ANY reason.
Period of Insurance
        June 1st 2015 to May 31st 2016  is the period for which the PMJJBY scheme will cover all kinds of risks. Next year onwards we well the risk cover period will be remain June 1st to may 31st.
LIC as the Administrator
        The Pradhan Mantri Jeevan Jyoti Bima Yojana ( PMJJBY ) scheme would be offered / administered by the Life Insurance Corporation (LIC) and other life insurance companies like SBI, ICICI etc. through their tie ups with the interested banks like SBI, ICICI, Canara Bank, PNB Bank etc. Participating banks are free to engage any such life insurance company for implementing this scheme for their subscribers.
Service Tax Exempt
        Finance Minister has proposed to exempt this scheme from service tax. So, you will not be charged any service tax on the premium payable.
Know Your Customer (KYC)/ Documents

 
Aadhaar Card issued by the UIDAI will be the primary requirement for your KYC under this scheme.
Application Form
 Here you have the link to the application form for you to enroll yourself for this scheme – Application Form for PMJJBY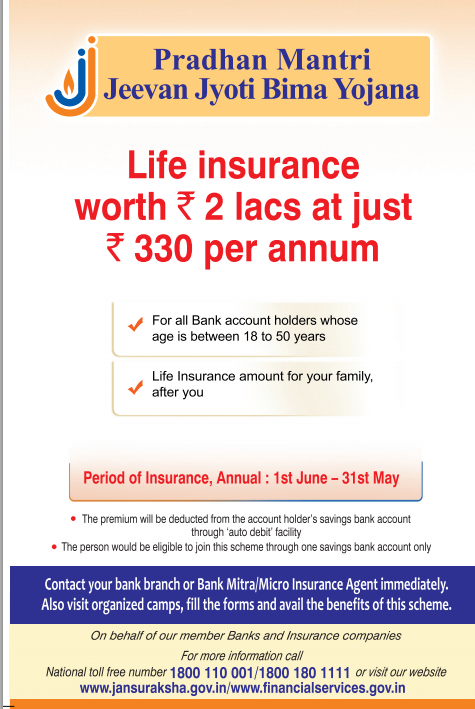 Nomination 
        Nominee name is to be given at the time of subscription along with relationship. In case the nominee is a minor or any person who is unsound, then the name of the guardian is also should be given.
The termination of assurance under Jeevan Jyoti Bima Yojana
Under following circumstances this scheme is terminated,
When subscriber attains the age of 55 years. Subject to annual renewal of policy up that date. As a matter of fact the permissible joining age for this scheme is 50 years only. After 50 yrs of you cant join this scheme.
If subscriber closes his/her saving account with bank
If Bank terminate the saving account of subscriber due to insufficient funds.
If subscriber opted for more than 1 PMJJBY, then Only one insurance cover of Rs 2 lakh is allowed per individual.
How to claim for Pradhan Mantri Jeevan Jyoti Bima Yojana (PMJJBY) after death 
        If policy holder passes away then the nominee has to inform the bank (within 30 days of death) from which the insurance policy was taken. You can get form for claim here http://jansuraksha.gov.in/Files/PMJJBY/English/ClaimForm.pdf
On acceptance of the claim, the claim amount will be deposited in the bank account of nominee.
Documents to be Submitted in support of the Claim
Duly filled claim form. Download from here
        English: http://jansuraksha.gov.in/Files/PMJJBY/English/ClaimForm.pdf
        Hindi:   http://jansuraksha.gov.in/files/pmjjby/HINDI/CLAIMFORM.pdf
Discharge receipt of hospital
Death certificate.
Photocopy of canceled cheque of the nominee's bank account (if available) or the bank details of bank wherein the member was having 'saving bank account' through which he/she was covered under Pradhan Mantri Jeevan Jyoti Bima Yojna.
 Toll-Free Numbers 
FAQs
Can I apply for both Pradhan Mantri Jeevan Jyoti Bima Yojana (PMJJBY) & Pradhan Mantri Suraksha Bima Yojana (PMSBY) policy ?
        Answer: Yes. You can enroll for both policies.
What are Exclusions of the Pradhan Mantri Jeevan Jyoti Bima Yojana ( PMJJBY ) scheme?
        Answer: Intentional self-injury, suicide or attempted suicide whilst under the influence of intoxication liquor or drugs, Any loss arising from an act made in breach of law with or without criminal intent.
Conclusion
        I hope we have covered all important details about Pradhan Mantri Jeevan Jyoti Bima Yojana (PMJJBY).  This Pradhan Mantri Jeevan Jyoti Bima Yojana (PMJJBY) is the term life insurance scheme plan. As we know the term insurance plans are the best and cheapest among all and cover ourself against risk of any kind of death. The new govt is doing very good job by taking initiative to attract low income group people to get themselves covered against the risk of death.
        I think the premium is the cheapest. Less than Rs 1 per day is justified for all the people of India. So my suggestion to all of you is that, whether you have already life insurance policy or not, you must enroll for this Pradhan mantra Jeevan Jyoti Bima Yojna.
        I will keep updating this post whenever I have something new elated to this topic. If you have any queries regarding this then you can post it in below comment section.